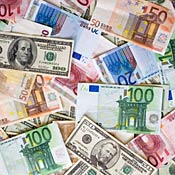 Since I don't like to be the easy critic who doesn't contribute with any solutions, I have compiled some activities that associations could engage in to raise the visibility of the industry, instead of organizing events (which cost a lot of money for the organizers and participants, especially in an environment with limited willing sponsors).
Special Advertising Section in business magazines. Associations can buy 4 or 8-page sections and sell advertising to its members. The material could be written by Common Sense Advisory. Good publications would be the likes of BusinessWeek, The Economist, Time Magazine, Fortune, just to name a few. This activity meets the goal or providing visibility for the industry and raising money (buy the space for X and sell it for 2X).

Online fundraising is the wave of the future. As the "wired" generation matures, online may become the dominant form of fundraising. Associations should all have a "Donate Now" button on their sites.
Membership drives. Dues are the main source of revenue of any association. By increasing the number of members through campaigns and direct sales associations can boost revenues. Instead of Managing Directors, associations should focus on hiring Sales Directors.

Publications that can be sold in bulk to member companies with basic information about the industry. A "Localization 101" book would come in handy in the sales process. If an association had such a book available, I would buy 200 today as a Christmas gift.

Government grants are often offered at federal, state or local level to non-profit associations. The American Association of Grant Professionals has links to professional grant writers. I don't know if any grants exist, but I have not searched for them either. I would look for grants in the U.S., E.U. institutions, and maybe Ireland.

Gala dinners or concerts. Organizing fundraising events around other industry events is cheaper and requires less resources than organizing a conference. A night at the opera, a black tie dinner at a castle or museum, or special tickets for a rock concert can do wonders.

Celebrity endorsement. I know it is hard to find someone like Angelina Jolie who is interested in the promotion of translation and localization companies. But if the industry aligns itself with initiatives like Translators without Borders, we might get someone to be the face of the language business. This is a good example of initiative that could be embraced by all the industry associations together.
Viral marketing. Associations could get together to fund a generic 3 or 4 minute "Localization in Plain Language" video, similar to Twitter in Plain English. A video like this could go viral very easily and would cost about $15,000. This is a typical cost that is too expensive for an individual company to bear, but an association could easily facilitate.

Smart Public Relations is probably the most powerful tool associations have to promote the industry. Unfortunately, good public relations is something that takes time and costs money. But it is also the best way to spend money. In my humble opinion, next time associations get together, they should only talk about Public Relations. They could find two or three core messages that everybody (individual translators, translation companies, tools companies, associations) agrees on and pool their resources to promote those messages in local, regional, and global markets. PR is what is going to put us in magazines, on the radio, and on TV.

I am sure there are more initiatives that can be thought of and I am happy to continue thinking about them, but I don't want to come to a discussion where organizing conferences is the only idea or solution.
I understand that nonprofit organizations have limited resources (money, staff, technology, time) with which to raise money, but I want to make sure that the effort put into fundraising has the highest return on investment. What I ask myself is: Are we sure that the event that just raised $10,000 was the best use of our staff time and effort? We need to calculate the direct and indirect costs of an event and determine the real net income generated. Are there better, more effective ways to raise more money for less cost and effort? I believe we need to take a hard look at how we are raising money (or wasting money) and come up with better alternatives to achieve our goals.
Finally, I need to acknowledge the efforts of the leaders of the different industry associations. They are all volunteers and contribute to the industry while still running their own businesses and taking care of their personal lives. All of this in exchange for criticism and bad manners from people like me. For you, my gratitude and admiration (but that doesn't mean that I agree with you!)